What we do
Diversified methodologies and delivery solutions
The FAO elearning Academy supports member countries through capacity development interventions, ensuring the transfer of know-how, knowledge, skills and competencies using eight different methodologies: elearning, blended learning programmes, massive open online courses (MOOCs), technical webinars, online tutored courses, mobile learning, face-to-face training workshops and university master's and postgraduate degree programmes.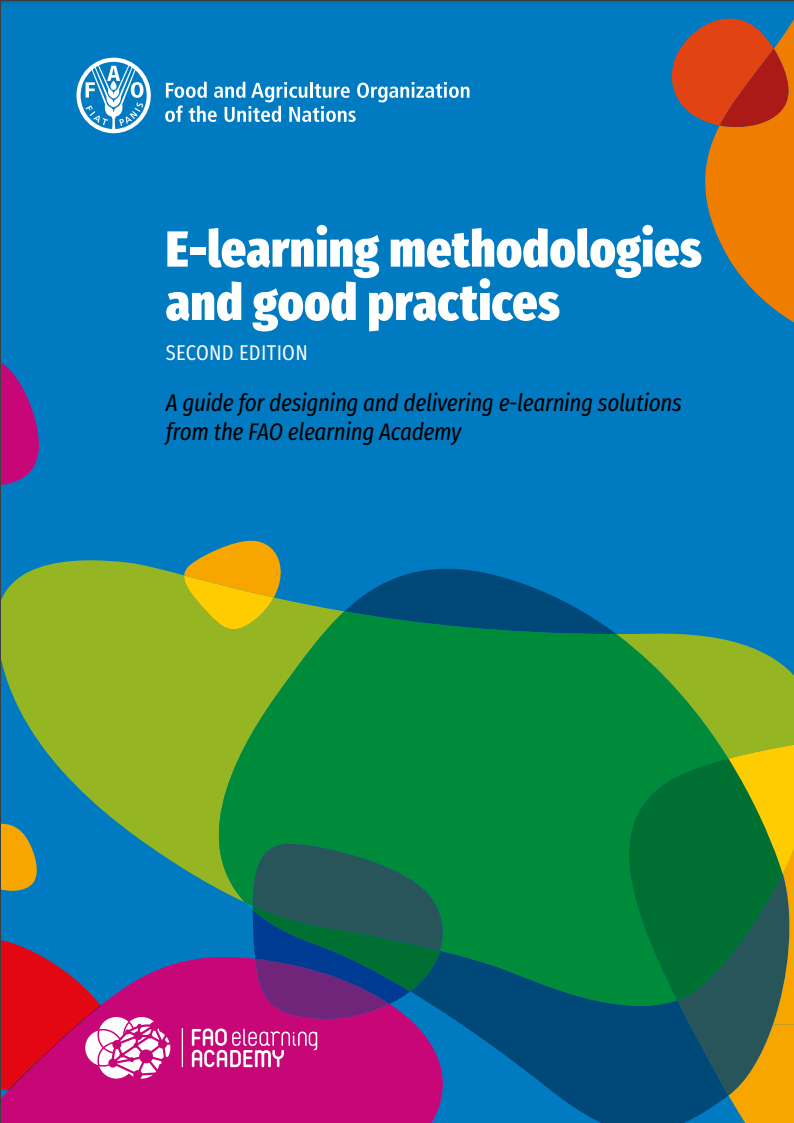 FAO elearning Academy
E-learning methodologies and good practices
A guide for designing and delivering e-learning solutions from the FAO elearning Academy
Participatory approach for a targeted, learner-centred design
For any type of learning intervention delivered by the FAO elearning Academy, a preliminary and thorough multistakeholder and multidisciplinary collaborative learning needs assessment – involving field practitioners and target audience representatives – is conducted to design a comprehensive curriculum.
This assessment is based on a detailed analysis of the target audience groups, including their roles, job functions and responsibilities; their key job tasks; and the knowledge, skills and competencies required to improve their performance and reach the overall learning intervention objectives. This thorough analysis is crucial to define what kind of learning intervention and delivery solution is more appropriate for the target audience.
Content quality

This accurate collaborative learner-centred design ensures that the technical content is relevant, that the learning experience has a clear purpose with realistic objectives and measurable outcomes, and that the competencies acquired to match the specifically targeted professional profiles.
In addition, quality criteria are used to ensure alignment between the objectives, activities, technical content, media design and knowledge assessment tests.
In accordance with adult learning theories and competency-based learning, the instructional approach that we propose aims to accomplish learning objectives at the knowledge, comprehension and application level, with or without the support of an instructor.
The content is developed following a logical learning sequence that is aligned with current state-of-the-art adult learning methodologies, theories and strategies.
The content is always gender inclusive; culturally sensitive; engaging; and rich in interactive elements, examples, relevant case-studies and interactive case-based scenarios.
The content is chunked in order to be learner-centred and user-friendly. The navigation in the courses is free and orientation is clear.
Assessments and certification
Knowledge assessment tests are used throughout the courses. These reinforce learning, increase active participation, increase retention and memorization of concepts and principles, increase interactivity and allow learners to have opportunities to practice their understanding of the materials.
Each course offered through the FAO elearning Academy has a clear purpose and realistic objectives that are measurable through knowledge tests and a final evaluation.
Certification is granted by FAO through passing the final scenario-based performance evaluation with a score of 75 per cent or more. A digital badges system certifies the acquisition of competencies.
Last modified: Wednesday, 27 September 2023, 11:43 AM