PLEASE NOTE!
The FAO E-Learning Centre website has been upgraded onto a new platform and despite our efforts to keep the quality of our service, some minor issues could arise. In case they do, please do not hesitate to contact elearning-support@fao.org
About the e-learning courses
All our courses are designed for self-paced learning, and offered free of charge.
A mixture of rich content, targeted learning strategies, dynamic screens, interactive tests, exercises with reinforcement feedback and illustrative case studies make often complex topics accessible to novice learners while meeting the needs of experienced professionals wishing to update their skills. All our courses are modular and suited to "just in time" learning. You can take a specific lesson whenever you need or access comprehensive courses, at your own pace and according to your schedule.
In addition to the e-learning materials, you will find links to online resources, recommended reading, self-study tutorials, checklists and wide-range of job aids to get you started in applying what you have learned.
Demo Lesson
Curious? Try a lesson…
To get a quick sample of what is on offer, try a lesson of one of the following courses:
Or just login/register now for access to all courses
Our learners
Our learners come from all around the globe, with the majority of them located in Africa and Asia.
They include staff from national and international NGOs, national governments, university students and researchers, UN field staff, as well as a diverse range of individuals and users from the private sector.
What our learners think
98% liked the learning style
83% recommended courses to others
93% gained new knowledge and skills
89% use information learned on the job

"...the technical detail was very helpful to me, as I am sure it will be to lots of people."
"Keep preparing this type of material, it's great!"
"...it was a perfect solid basis for introducing technical issues in an accessible way."
Our courses have been developed in collaboration with a wide range of partners. The richness of our materials reflects the broad range of experts and institutions who have worked with us in the design, development and adaption of our e-learning courses to meet the needs of a broad range of users. Visit our partners page to learn more about our partners and their contributions.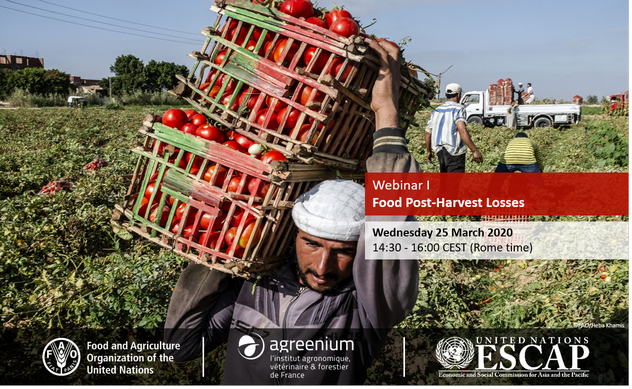 This series of technical webinars, organized by Agreenium, UN-ESCAP, and FAO, is an opportunity for all of us to share experiences and lessons learnt, discuss challenges, and propose innovative solutions and models.
Sustainable Food Systems and Nutrition: Food Post-Harvest Losses

Please click here to register for this webinar.
OBJECTIVES OF THIS SESSION
- Explain quality management procedures to reduce post-harvest food losses
- Introduce SDG target 12.3.1a on the Food Loss Index (FLI) and the statistical methods to measure losses
- Explore ways to reduce post-harvest food losses in South East Asian Countries
SPEAKERS

This technical webinar will be delivered by Ms Rosa Rolle, Senior Enterprise Development Officer (FAO) and Ms Carola Fabi, Senior Statistician (FAO), and moderated by Ms Cristina Petracchi, Head of the FAO eLearning Academy.